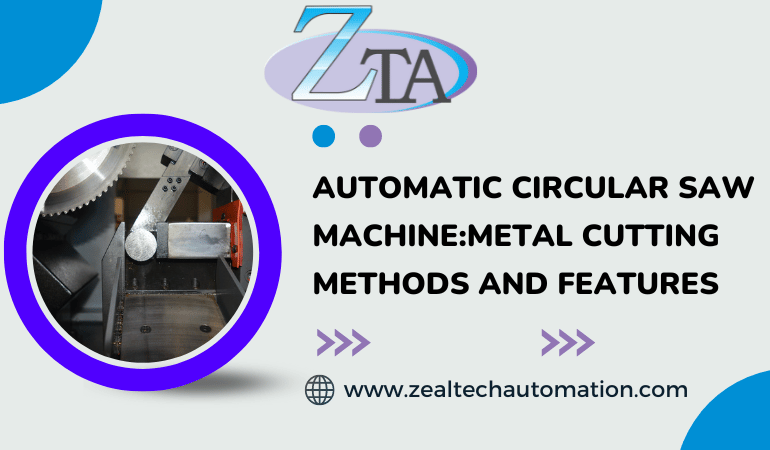 Automatic Circular Saw Machine: Metal Cutting Methods and Features
Circular saws, also known as chop saws, are a common tool in many workshops. Cutting small diameter tube, box, and flats quickly and efficiently. We offer a variety of saws, ranging from simple pull-down saws for cutting steel to high rpm aluminium cutting saws and semi-automatic models.
Are you looking for Band Saw Machine Manufacturers?
Zealtech Automation are the services providers , Vertical Band Saw Machine (Hydraulic) special Purpose for Metal Cutting with different models as per individual Requirements.
Features of Automatic Circular Saw Machines:
Completely automatic operation.
High accuracy straight 90-degree cutting.
Servo controlled vertical slide movement on ball screw ensures precise cutting.
Counter Balance System ensures maximum stability throughout the cut.
Accurate feeding systems ensure superior cutting length accuracy and material handling.
Provides rigid material holding with a rigid and dependable clamping vice.
The automatic lubrication system ensures that the machine runs smoothly and that the components last a long time.
Integrated chips tray for easy cleaning and maintenance.
Types of Metal Cutting Methods
During the metal cutting manufacturing process, a large piece of material is cut into smaller bits or parts. There are numerous methods for cutting metal, each with advantages and limitations that make it suitable for specific manufacturing projects.
We've highlighted some of the most popular below to help business professionals choose the best solution for their needs. We've gone over how various metal-cutting techniques work.
1. Saw Cutting
Sawing or saw cutting is the process of slicing a material into smaller, more manageable pieces or precise shapes and sizes using a saw blade or a tool with sharp metal teeth. The two main saw-cutting techniques used by manufacturers are circular and band saw cutting.
2. Laser Cutting
Laser cutting uses intense, focused beams of light to heat, melt, and slice through the material being processed without actually contacting it. Various cutting and removal techniques can accommodate a wide range of materials and cutting needs.
3.Shearing
Shearing is a metal cutting process that employs two blades that are slightly offset: a moving top blade and a stationary lower blade. Use this method to cut items. As the material pulls down on the lower blade, the upper blade falls. The pressure applied to the material cause's deformation, which leads to strain and failure.
How Zeal Tech Automation Help
Zeal Tech Automation is a leading producer of Circular Saw Machines and Band Saw Machines. These products are highly valued and appreciated in the market due to characteristics such as toughness, consistency, and efficiency.
These offered products are in high demand due to their superior quality and efficiency. Furthermore, our products are well-known in the industry for their durability, dependability, and efficiency.
Metal cutting automatic circular saw machine is a high productivity, accurate, and compact machine that produces at a high rate for a low investment. It achieves a very good surface finish while reducing parting losses. Both fully automatic circular saw machine and semi automatic  circular saw machines are available.
Conclusion:
Zeal Tech Automation is one of the leading manufacturers of High Speed Circular Sawing Machines and Semi automatic circular saw machines , keeping up with time and technology while meeting customer expectations.
These machines are extremely fast when compared to traditional Double Column Band Saw Machines and are designed to cut ferrous and nonferrous metals such as mild steel, alloy steels, copper, bronze, aluminium, and so on. These are the machines used in the production of channels, solid bars, hollows, flats, squares, angles, and other ferrous and nonferrous metal sections.
Automatic Circular Saw Machine: Metal Cutting Methods and Features