VERTICAL BAND SAW MACHINE (HYDRAULIC)
With the help of our skilled workforce and state-of-the-art infrastructure facilities, we are able to manufacture and supply Hydraulic Vertical Bandsaw Machines. These RLC / PLC controlled hydraulic machines are equipped with a heavy duty reduction gearbox and vertical blades for heavy cutting with their high centrifugal force. Our offered Hydraulic Vertical Bandsaw Machines are highly demanded in the market for their rigid construction, hydraulic operations, ultrahigh efficiency and longer service life. Clients can procure these machines in different blade dimensions, band speeds and motor capacities as per their requirements.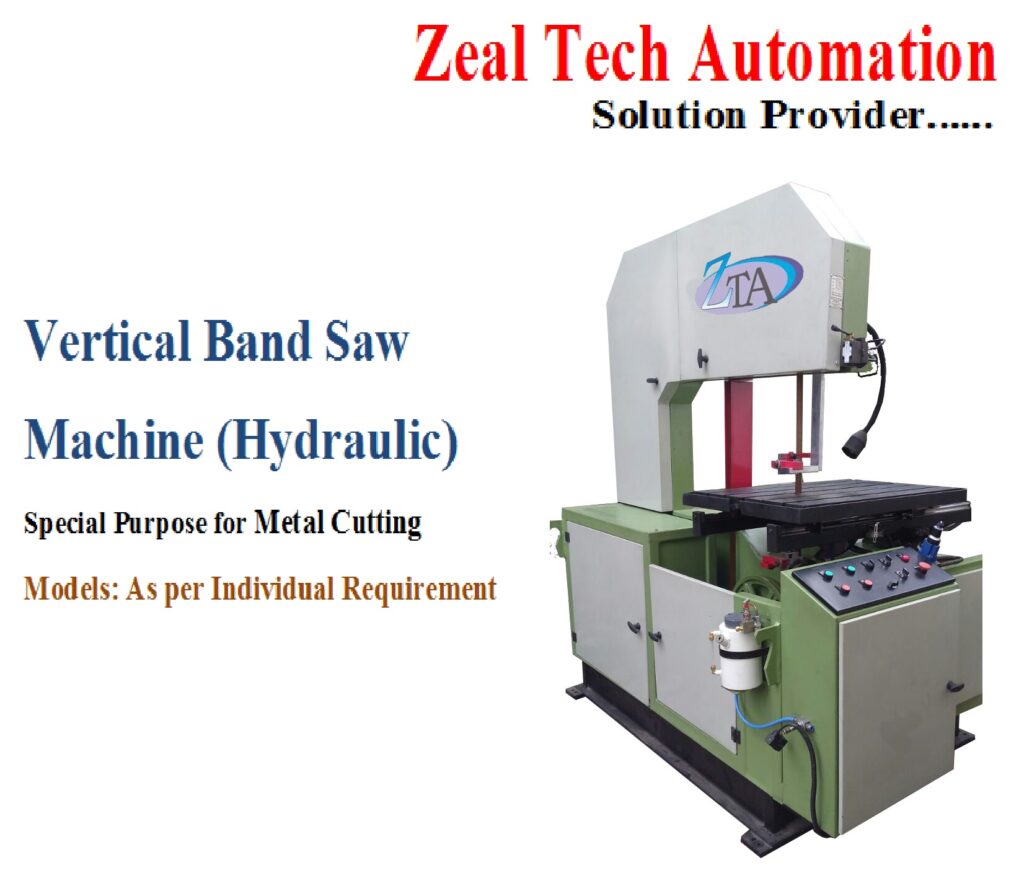 CONSTRUCTION/FUNCTIONAL DETAIL:
• Torsion free construction of Heavy duty Fabricated Structure of Machine.
• Cutting Tool (Blade) guided on the two wheel of graded cast Iron.
• Hydraulic blade tension arrangement.
• Hydraulic table travel.
• Table with "T" Slots for clamping various jobs.
• Automatic Blade stops when blade breaks.
• Separate Hydraulic Power pack for easy maintenance.
• Tungsten Carbide faces Blade Guides.
• Heavy duty reduction Gearbox for heavy cutting torque.
• Inbuilt coolant tank with Two-way cooling arrangement.
• Electrical Control Panel with high quality switchgears.
• Step Pulley for Band speed selections.
• Rack for Rising and Lowering of Top Guide.
• Motor Protection with Thermal over Load relay and MCB.
• Length Setting Stopper (Optional).
HYDRAULIC TABLE TRAVEL:
A stress relived heavy duty fabricated table guided on two hard chrome plated guide bars or on Liner Guide Ways and have an infinitely variable hydraulic feed 0-150 mm/min. controlled through a feed control valve.
BLADE TENSIONING
Please note, we are giving standard, hydraulic blade tensioning. Kindly note, this is most important aspect in the performance of blade, as to get better blade and consistent blade life, there should be a perfect tension, as designated by the blade manufacturer for this size of the blade. Our tensioning equipment has been calibrated for the desired tension, which will never change during operation. This you cannot expect from manual blade tension equipment and hence hydraulic tensioning should be a standard feature.
OPTIONAL SUPPLY:
• VFD for various band speeds.
• Machine lamp.
• Micro Mist Coolant Arrangement
• Butt Welding Machine with Blade Shearing and Grinding