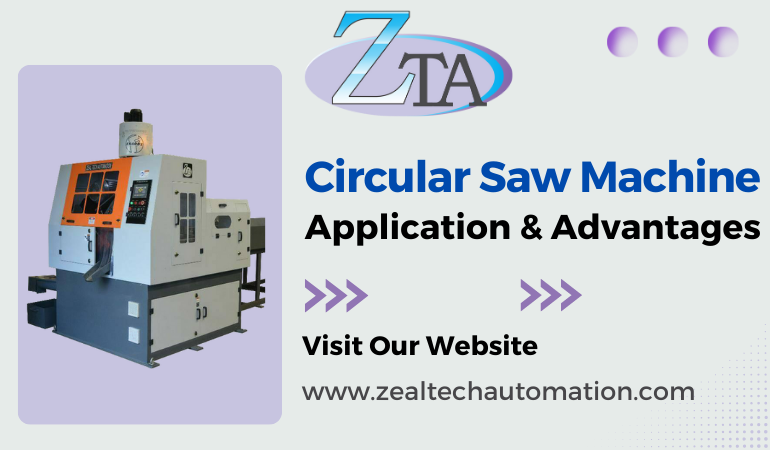 Table of Content:
What is a Circular Saw Machine?
Circular Saw Machine Advantages
Circular Saw Machine Application
How Zeal Tech Automtion Help
Conclusion
What is a Circular Saw Machine?
A circular saw is a power tool that cuts materials using a round blade. It may be mounted on the table, or it may be handheld. Saw Machine is a tool made up of a wire, a tough blade, chain with a solid toothed edge. It is used to cut material, often to cut wood though sometimes stone or metals.
A special-purpose circular saw Machine is an Industry useful tool cutting for countless materials for instance -plastic, sheet Metal, Forgings, Casting and Foundry, Automobile, and so on.
Circular saws mainly come in two designs, the worm drive Circular saw and the sidewinder circular Saw. Zeal Tech Automation is the leading Manufacturer of 3 types of Circular Saw Machines, Fully Automatic Numerical Controlled Circular Saw machines, Semi-automatic Circular Saw machines, and Special Purpose circular Saw Machines.
Circular Saw Machine can be used for cutting outsized timbers. A circular saw is frequently used in a sawmill to cut big pieces of timber
Are you looking for Special Purpose Circular Saw Machine Manufacturers?
Zealtech Automation are the services providers , Vertical Band Saw Machine (Hydraulic) special Purpose for Metal Cutting with different models as per individual Requirements.
Circular Saw Machine Advantages
The circular saw is largely used in woodworking and self-assembly power tool used to cut logs by the cutting action of a toothed blade spinning at high speed.
One of the best advantages of circular saws are it is highly portable and multipurpose also can be easily handle wide-ranging materials, and are easy to maintain and use. The only precaution you must have to take while using Circular Saw Machine is handling it with proper attention and care as it can be very dangerous if not handled properly.
High processing capability and satisfactory production
The Circular Saw blade can be adjusted on the shaft through the hydraulic waiting appliances to process wood.
The Special Purpose circular saw Machine has high sawing accuracy with good surface quality
The Special Purpose circular saw provides the advantage of long service life and low expenditure.
Special Purpose Circular saw processing can design your production lines with a high degree of automation.
Special Purpose Circular Saw Machine is available with different specifications at Zeal Tech Automation. This machine gives an even surface finish while cutting any material.
While using Special Purpose Circular Saw Machine saw setting needs to be done geometrically.
Special Purpose Circular Saw Machine comes with Low operational noise
Special Purpose Circular Saw Machine can withstand extreme working atmospheres. They can be used at any place such as both indoors and outdoors liable on the need, even though they should always be used inside close proximity to an electrical outlet in case they have an electric motor.
Circular saw machine application
Circular saws are frequently used for construction and Metal cutting work. You can contact zeal Tech Automation for special Purpose circular Saw Machines as well as Vertical Band Saw Machines.
Cutting down on metals
Cross-cutting
Getting straight edges
Stock cutting
Cutting bevels
Cutting long plywood to size.
Carpentry
Create a groove in the material
In industrial applications, the speed of circular Saw machines is an important economic factor. Metal Cutting rates with a reciprocating saw are reliant on several process factors, such as the applied pressure on the circular saw, the responding speed of the saw blade, and the geometry of the cutting edges.
Zeal Tech Automation provides a Special Purpose circular Saw Machine for several industries.
Industries We Serve:
Forgings
Automobile
Brass Fitting
Hydraulic Fitting
Plastic Fuel Tank
Casting and Foundry
Fasteners
The special-purpose metal cutting circular saw allows you to keep the saw blade and the materials to remain cool throughout the operations. The additional advantages of the special-purpose metal-cutting circular saw machine include the elimination of burrs during the sawing process and also the lessening of sparks, staining, discoloration as well as harmful dust
To make straight cuts on denser sheets of acrylic and polycarbonate plastic if it is greater than ⅛ inch thick, you might need to use a table saw or special-purpose circular saw machine.  Our Special Purpose circular Saw machine's blades are designed specifically to cut plastic.
How Zeal Tech Automtion Help:
We regularly supply our products to various Steel Plants, Forging Plants, Automobile Ancillaries, and so on. Below are a few of our regular clients to whom we have been supplying our products for the past ten years. We are delighted to inform you that we have successfully supplied and installed over 240 machines across India.
Cutting times in steel or aluminium processing are reduced while quality is maintained. You can use our circular saw machines to do it. Automatic cycle control for clamping, sawing, and opening the vice reduces non-productive time significantly. High-performance thin-section sawing systems customised for your needs.
Conclusion
Circular saws are versatile tools that can cut wood, metal, concrete, plastic, and a variety of other materials. Circular saws are also more portable, making them ideal for onsite jobs and people who are constantly on the go.
We have a wide range of products to offer you, such as bar cutting circular saw machine, sonic fanc 125 fully automatic circular sawing machine, circular saw machine, circular saw cutting machine, sonic fanc 70 circular saw cutter machine and sonic fanc 100 circular saw machine.
Contact Zeal Tech Automation for all types of Circular Saw Machines that will benefit your business by increasing productivity and speed.
Circular Saw Machine: Application & Advantages