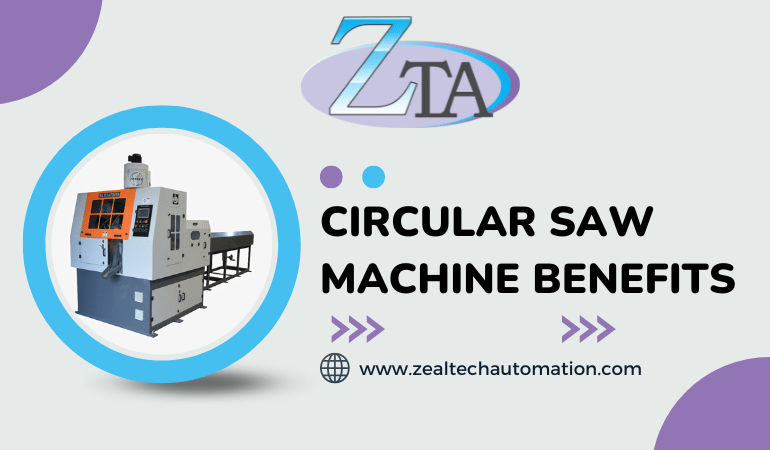 Tips to choose the best NC Circular Saw Machine Manufacturer
NC Circular saw machine is used for automated cutting for various metal/alloy bars, tubes and materials of various different profiles. These machines are meant for mass production and high accuracy. These powered saw machines contain a spinning enclosed circular blade that cuts in spinning motion.  
Are you looking for circular saw machine manufacturers?
Zeal Tech Automation provides fully automatic, Semi-automatic circular Saw machines, Special Purpose Circular Saw Machines in different models and According to the client's requirement.
Following are the tips to make a smart choice while buying a NC Circular saw machine:
1.Trusted, Experienced and Reliable Manufacturer:
One should choose a manufacturer with the best Market reputation. Proven products and experienced manufacturers are best to go with. It is easy to obtain their reliability from the market source.
2.Performance of the Machine (Lower CPC, Taper free cuts, precise repeatability, low material wastage, Higher tool life)
Key factors defining a NC circular saw machine's performance are: Lower cost per cut, precise indexing of job, taper free cuts, minimum material wastage, lower cutting time per component, higher tool life, robust structure of machine and low power consumption.
3.Easy Operability
What is the point if the machine bought by the user is hard to operate?
The machine should be easy to operate, such that even a semiskilled worker is able to operate the machine. Otherwise, it will be a waste of investment on such machines which are very hard and complicated to operate.
4.After-sale service and nearly zero maintenance
Fast, authentic and cost efficient after-sales service should be a key point while buying NC circular saw machine. Excellent and unmatched technical support, nearly zero and easy maintenance, prompt response, and durability of the machine should be taken is consideration.
5.Cost efficient
The machine should be value for money, that is, its price should be competitive in accordance with the market and its productivity should be unmatched. It is beneficial to choose the manufacturer providing cost-efficient and highly productive product.
6.Time Saving / Time efficient
Choose the product that gives better productivity in less time and this is the real business. The time required per cut should be low. Hence, this is a vital factor when choosing the best manufacturer for Circular Saw Machines. Time-Saving Machines are highly in demand in the market to save time for more production.
Conclusion
Zeal tech automation, based in Pune, Maharashtra (India), is a leading manufacturer of Fully Automatic NC circular saw machines, semi-automatic circular saw machine, SPM circular saw machine and Vertical band saw machine. Our machines are industry proven and we are equipped with huge experience in manufacturing of NC circular saw machines. Our machine performance, operability, after sales service, cost-effectiveness and customer satisfaction is highly appreciated and trusted is the market. We abide by all the above given tips for choosing a NC circular saw machine, hence making are product an idle fit for the market. For technical enquiry please visit our website www.zealtechautomation.com  or feel free to write a mail.
We wait for you valuable enquire to start a healthy and long business relationship with your esteemed organisation.
Tips to Choose a Circular Saw Machine Manufacturer